Need a little respite from the monotony of your home and office life in the daily din of Bangalore? You wish you could take a long vacation but with so much work and the ongoing pandemic, there's little room for that. So, for you, we have put together this list of the 10 best places to visit around Bangalore. From gorgeous rolling hills to temples with history, from awe-inspiring palaces to wild beauty at national parks, these trips around Bangalore will give you the much-needed break from your hectic daily life. So, dive right in and choose your favorite among these getaways near Bangalore.
1. Shivagange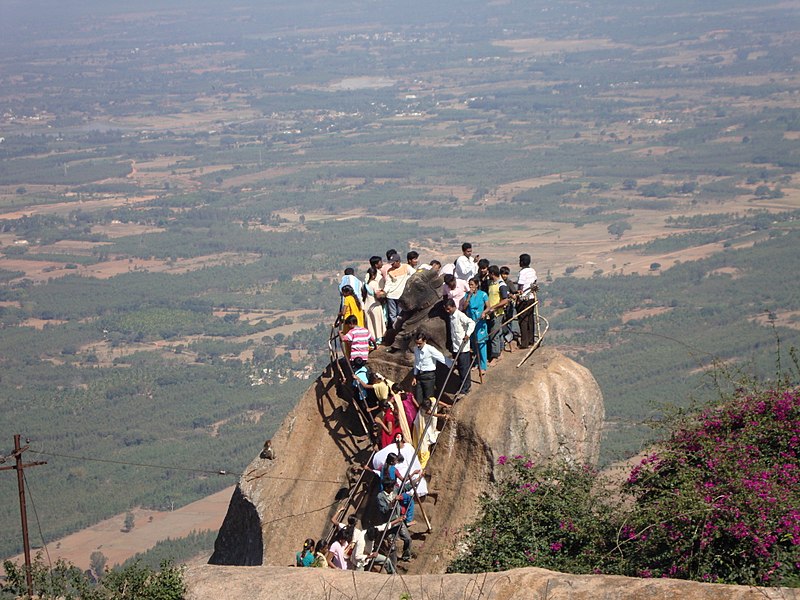 Shivagange is one the best places to visit around Bangalore where faith meets adventure. You see, the name comes from the hillock's shape resembling Shiva linga and the small stream called Ganga flowing close by. So, if you were looking for pilgrimages near Bangalore, you can offer prayers to the rock-cut structure of Nandi and other theerthas on Shivagange hill. A 3-km trek will take you to the top and the views from here are spellbinding. So, where does adventure come in all this? Well, if you are a thrill-seeker, you can go rock climbing here to ascend to the top of Shivagange!
Time and Distance of Shivagange from Bangalore: 1hr 11min; 54km
Food and accommodation: Few food stalls available in the area. You may carry some light snacks with you but beware of the monkeys. Several budget and luxury accommodations available within a 10-20km radius.
2. Kolar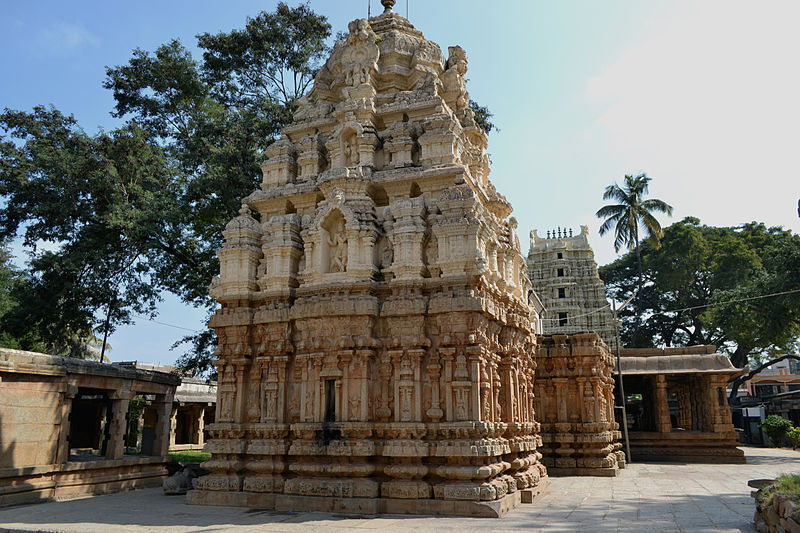 Have you heard of the gold mines in Kolar near Bangalore? Wait, lemme guess. You already do, because you've watched the blockbuster movie KGF and are already pumped up for Chapter 2 (Yeah me too!). Well, of course, I am not asking you to go dig out some gold for me at the Kolar Gold Fields because that's closed since 2001 (although I wouldn't mind if you manage to hunt down a few gold bars and bring one for me). But apart from this, Kolar is also famous for its beautiful colonial buildings, the Kotilingeshwara Temple (houses the largest Shivling in the world) and Someshwara temple, and the serene pilgrimage hill of Antara Gange. If ancient architecture fascinates you, Kolar is the place to be, I tell you!
Time and Distance of Kolar from Bangalore: 1hr 15min; 65km
Food and accommodation: A number of good hotels are available for tourists in Kolar, both budget and resort-like. A delight for fast-food lovers, there are also some decent restaurants available in the town.
3. Skandagiri - one of the best trekking places to visit around Bangalore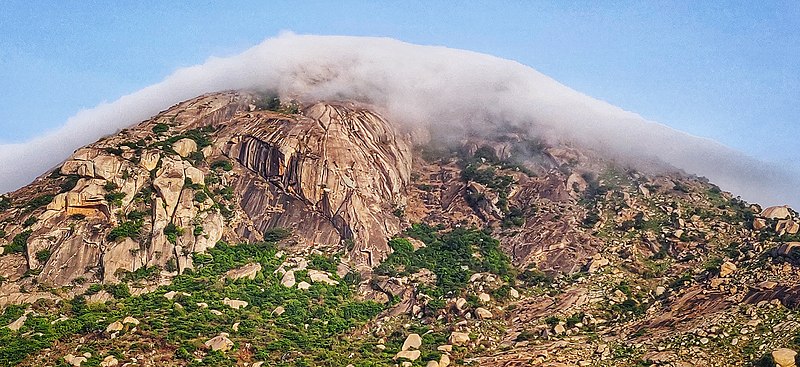 Skandagiri is a trekker's heaven. And the best part? You can go on a night trek here. If stargazing in the hills is something you are yet to tick off your bucket list, Skandagiri is the best place to be at near Bangalore. On trekking the lush green hill of Skandagiri you'd not only be rewarded with stunning valley views but also be able to to go caving. On top lies the Tipu Sultan Fort in ruins and somewhere inside there are two caves and around six samidhis. For the spiritual travelers, keep some time apart to pay a visit to the Shiva temple and Papagni Mutt (devoted to Goddess Parvati).
Time and Distance of Skandagiri from Bangalore: 1hr 18min; 61.3km
Food and accommodation: In Skandagiri, hotel options are limited. There are a few luxury resorts in the area where you'd love staying. But if you are the more adventurous kind, go for camping.
4. Savandurga Hills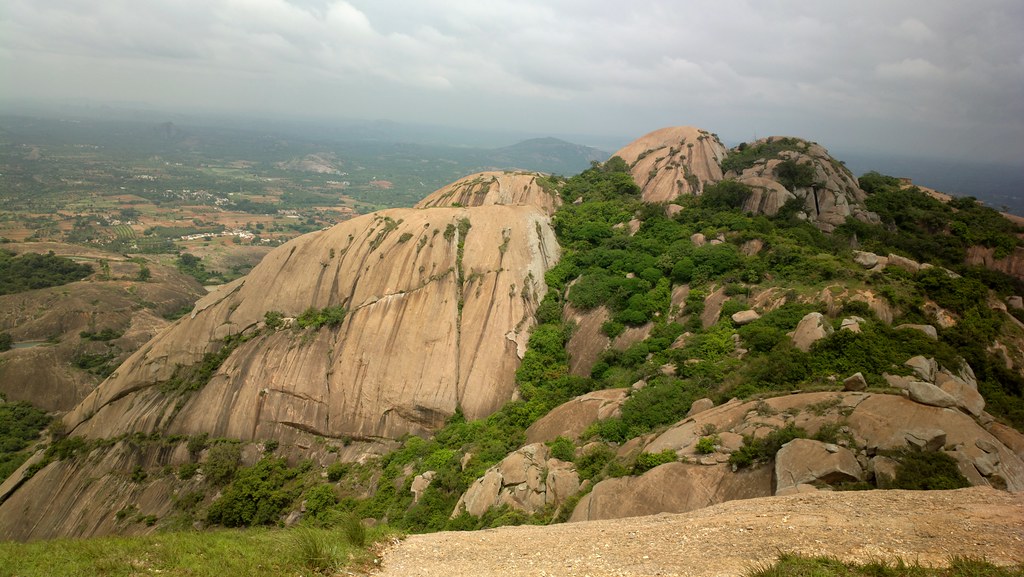 Did you know Savanadurga, one of the best places to visit around Bangalore, is the largest monolithic hill in India? Located right next to the Amaravati River, this one day trip near Bangalore will surely be one of the most beautiful you've had till date. The panoramic views of the region that you get when you're on the top are truly fulfilling. So, Instagram worthy too, with the river flowing at the bottom! There are several temples at the foothills of Savanadurga that you can visit. And the best? You can try your hands at rock climbing at this famous tourist spot in Karnataka. Adventurous souls, where are you?
Time and Distance of Savanadurga from Bangalore: 1hr 23min; 50km
Food and accommodation: Farm stays, homestays, and some luxury resorts are available in the area around Savanadurga. Several small restaurants are also there.
5. Channapatna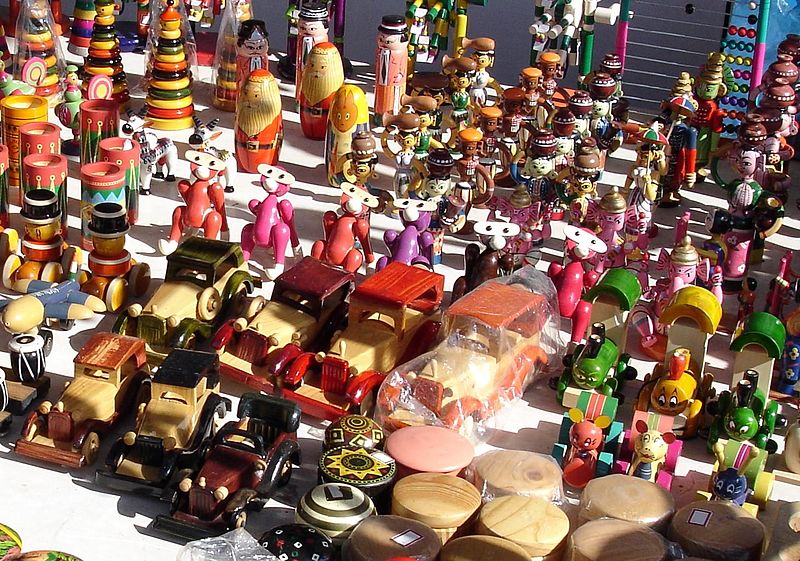 This place is unlike any other is our list of beat places to visit around Bangalore. While you won't be spotting a tiger or trekking a hill in Channapatna, you sure would come back with a bucket load of immersive experiences when you visit this place just 60 km away from Bangalore. Channapatna is known as the toy village or the doll town. The vibrant toys laid out on street side stores all around the area would take you back to your childhood days. For families traveling with children, your kids are gonna love the place. There are around 500 toy factories in the area and you could take a local's help to better understand the place, its history, and how toy making makes up their lives.
Time and Distance of Channapatna from Bangalore: 1hr 30min; 61km
Food and accommodation: Stay options are limited. You might ask the locals for recommendations.
6. Banerghatta National Park - the closest place to visit around Bangalore to witness wildlife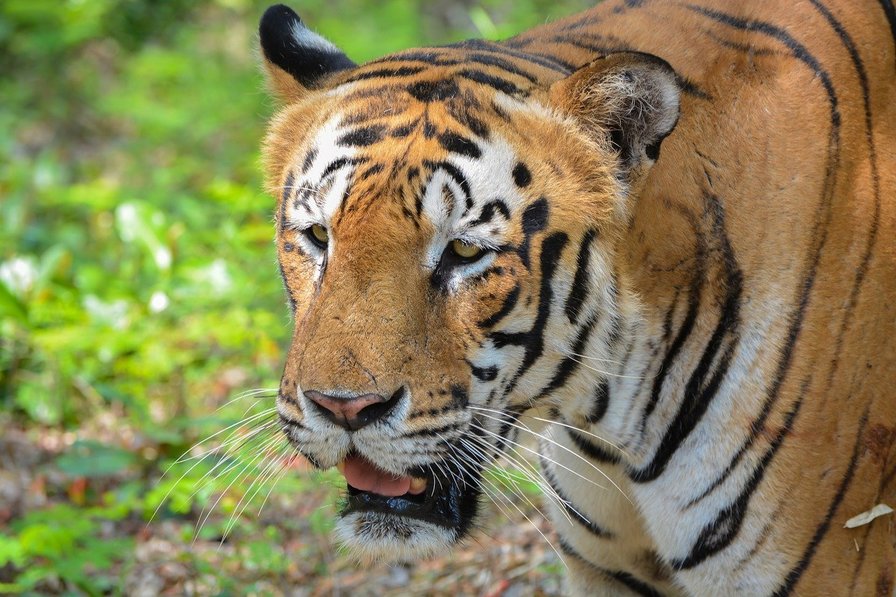 When was the last time you saw a tiger real close to you, like I-might-just-pounce-on-you-any-moment-now close? Been too long, or never? Well then, time for a wildlife getaway from Bangalore! Bannerghatta National Park is only some 20km away from the city and you could spot a leopard, tiger, and even the Asiatic lion here. Talk about formidable wildlife in the heart of nature, huh? So, just take a much rewarding and enriching wildlife safari at Bannerghatta. Of course, its prehistoric animal park, buttery park, and crocodile are equally worth a visit.
Time and Distance of Bannerghatta from Bangalore: 34min; 20km
Timings: 9:30 a.m. to 5 p.m.; closed on Tuesdays
Entry fees: Indians - INR 100 for adults, INR 50 for children, INR 60 for senior citizens; Foreigners - INR 500 for adults, INR 400 for children; separate fees for Butterfly park, AC/non-AC bus safari, and jeep safari.
7. Ramanagara Vineyard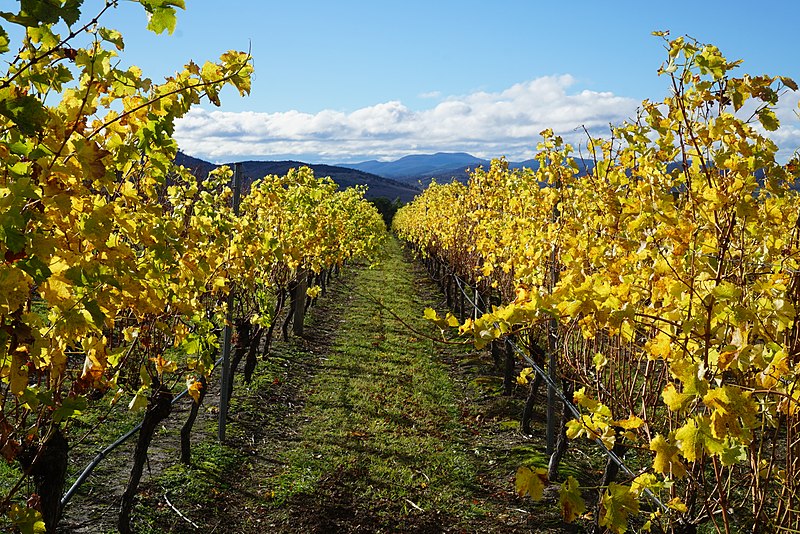 If you're dreaming about the countryside vineyards in France or Italy, let me tell you that one of the best places to visit in Bangalore is the Ramanagara Vineyard. Wine connoisseurs, do you copy? Not only would you learn about the art of how your favorite beverage is made but also have the perfect morning strolls in the scenic and sprawling vineyard. Of course, there's the tang of exquisite wine that'll be a delight to your taste buds. And guess what? A few of the samples you'd be tasting on the tour are indeed French!
Time and Distance of Ramanagara Vineyard from Bangalore: 1hr 12min; 50km
Timings: From 10:30 a.m. on all days (no live production on Sunday)
Fee: INR 700 excluding extra wine and lunch
8. Mysore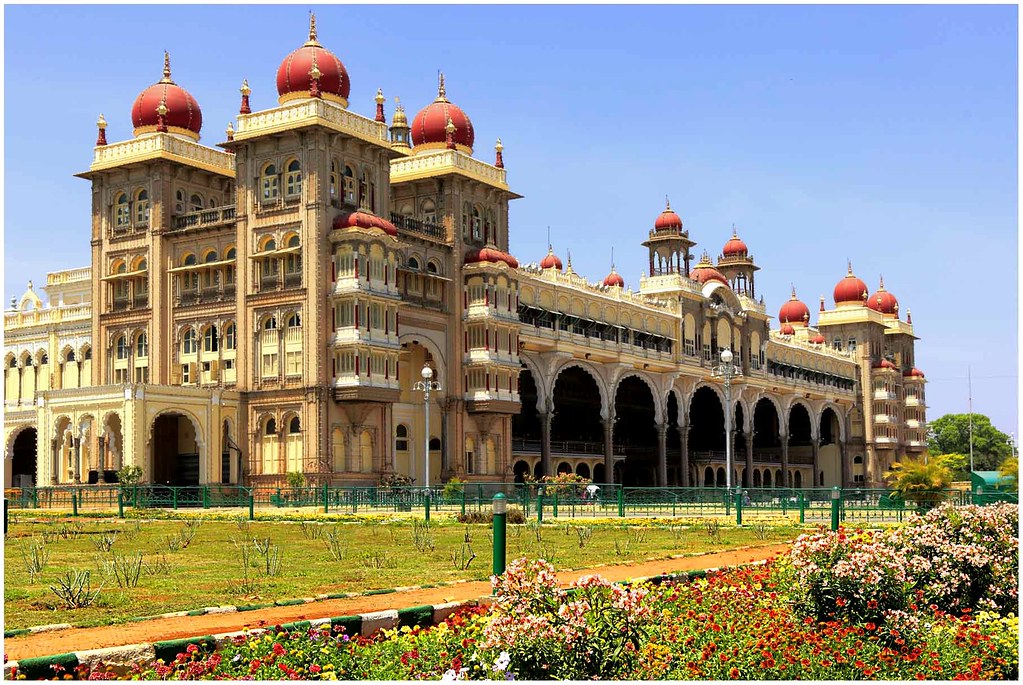 You must have already heard about South India's most prominent landmark, the Mysore Palace which draws a whopping six million annual visitors, just next in line after Taj Mahal in India. The fascinating Indo-Saracenic architecture of the palace will leave you stunned. And when palace is lit up in the evenings, like wow! Hard to put down the camera then. Now, while it might be the the prime attraction in Mysore, let me tell you that there are a total of seven palaces in Mysore, including the Mysore Palace. If you have a knack for historical places, then trust me, you wouldn't want to come back home from Mysore.
Time and Distance of Mysore from Bangalore: 3hr 20min; 145km
Food and accommodation: Being a popular tourist spot, there's no dearth of accommodation options in Mysore. From budget dorms to high end resorts, you'd find a good place to stay at in Mysore at any time of the year. Also, in food, Mysore Masala Dosa is a no-brainer!
9. Kabini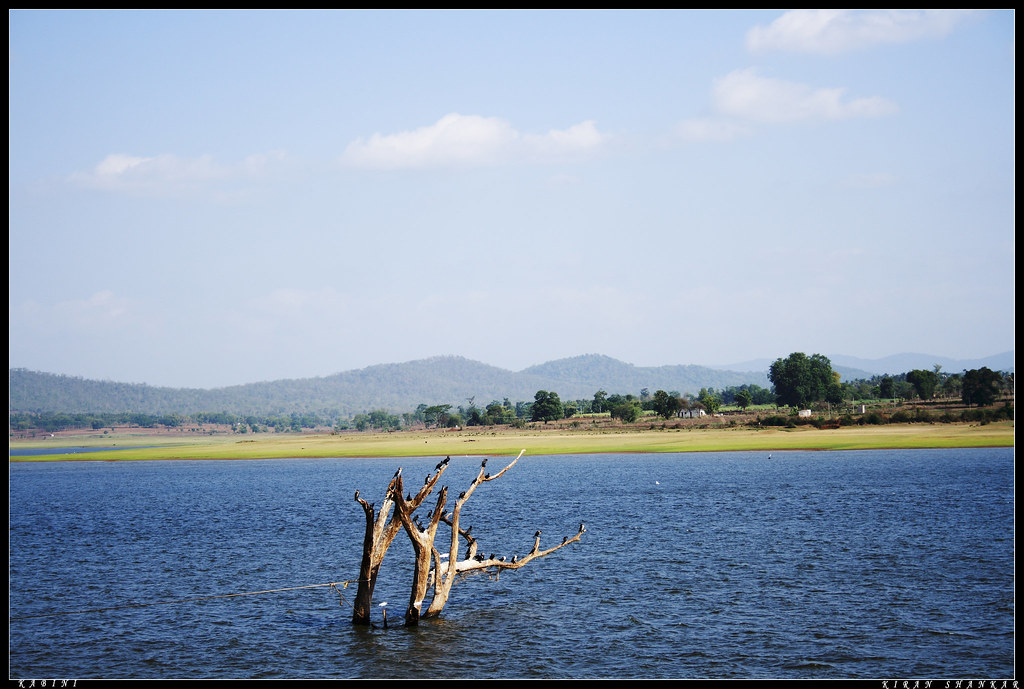 Kabini is a nature lover's paradise! It boasts of the raw wilderness and serene sceneries that you crave for sitting in your home and leading a city dweller's life in Bangalore. The backwaters and the banks of the Kabini river are amazing spots to spend some time in tranquility with your favorite ones. Strewn along the enchanting landscape of Kabini are home to various flora and fauna. You can take a morning safari in Nagarahole National Park and spot deer, bisons, wild boars, elephants, and even the elusive leopards and tigers, if you are lucky. The boat rides in Kabini also acquaint you with the exquisite avifauna of the region, a heaven for birders.
Time and Distance of Kabini from Bangalore: 4hr 52min; 215.4km
Food and accommodation: Check out this Riverfront Family Resort with pool in Kabini.
10. Lepakshi - one of the best places to visit near Bangalore for mythology lovers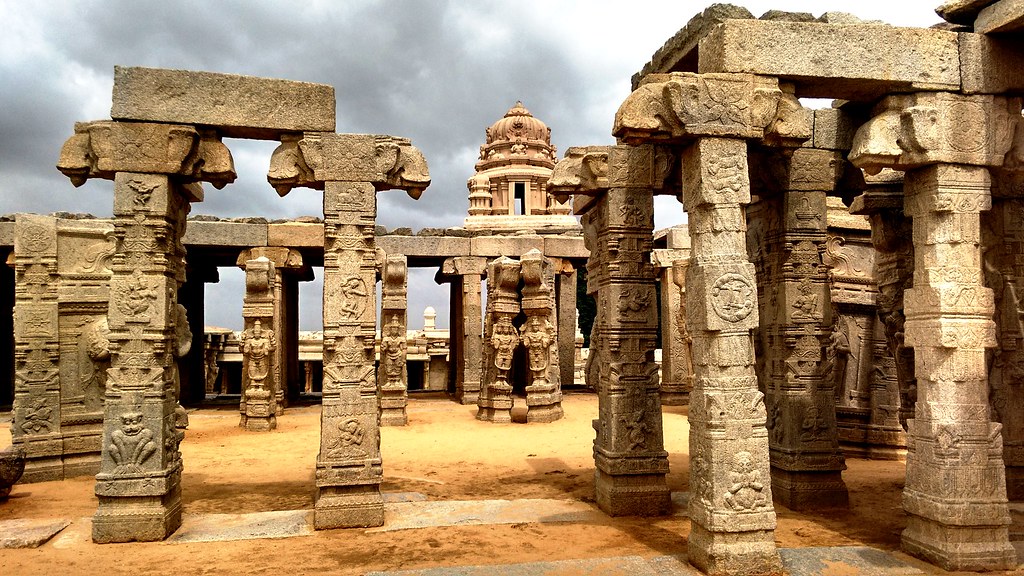 There's this quaint village in Andhra Pradesh some three hours drive away from Bangalore where you'll see mythology unfolding in front of you. Lepakshi village gets its name from what Lord Ram had uttered "Le Pakshi" ("Rise, oh bird" in Telegu) when Jatayu had fallen and as per the local belief, this is where the incident happened. Now, wouldn't you want to visit such a place about which your grandma told you stories about reading them out from Ramayana? Apart from that, get ready to be awed by the finely carved sculptures and beautifully done murals in the temples of the region such as Veerbhadra Temple. If you are going on family getaway, you could even cite stories from the Ramayana to your children, you know? They'd love it too!
Time and Distance of Lepakshi from Bangalore: 2hr; 123 km
Food and Accommodation: Food and accommodation for travelers are scarce in this village. You can pack some food and have a picnic instead at this mythological place.
Loved our collection of best places to visit around Bangalore? Then check out these awesome places near Bangalore if you were planning for long drives. Oh, wait, need a little waterfall charm on your getaway? Visit these stunning waterfalls near Bangalore this monsoon. For those who were missing the chilly winds of the hills, head out for these hill stations near Bangalore this weekend! If you need help with finding the best places to stay, we got your back with that too! Yuyiii has these awesome handpicked stays near your city, curated for travelers just like you!